Landmine Casualties
Around 16-20 million landmines were planted during the Iran-Iraq war in the border area between the two countries. Three decades after the war's end, landmines are still a hazard to civilians who are at risk of death and injury. Slice and dice the data to learn about landmine casualties in Iran.

Landmine production and use in Iran
Around 16-20 million landmines were planted during the Iran-Iraq war in the border area between the two countries. This area includes the provinces of Khuzestan, Ilam, Kermanshah, West Azerbaijan, and Kurdistan. Today, three decades after the war's end, landmines are still a hazard to civilians who are at risk of death and injury. Although Iran claims it has not used or produced anti-personnel mines since the end of the war in 1988, Iranian-produced landmines have been found with date-stamps as late as 1999 and 2000, which means that these weapons were being produced and used well after the Iran-Iraq war. Additionally, international monitoring groups believe the country has a large stockpile of landmines, though there is no official information available on the extent of this stockpile.
Iran has failed to adequately demine
Iran has not joined the Ottawa Convention on the banning of landmines (also known as the Mine Ban Treaty), despite pledging to consider doing so during its second Universal Periodic Review. Iran is neither a party to the Convention on Cluster Munitions, nor to the Convention on Conventional Weapons, which aim to prohibit and restrict the use of certain weapons considered to be indiscriminate, including landmines and other ground-launched explosives.
Although Iran has engaged in demining efforts over the last decades, human rights groups claim the government's approach to demining has been insufficient and mismanaged. Despite official government statements that demining operations were completed in 2013 in Kermanshah province and in 2014 in Khuzestan province, casualties have continued in both regions up to present day. Some officials have claimed that demining operations have not been successful because the activities were sub-contracted to companies that lack the necessary competence. One contributing factor is Iran's consistent refusal to seek the assistance of international organizations specialized in demining. As a result of these failings, experts have estimated that, at this rate, mine-clearing operations will take approximately 50 more years to complete.
Spotlight on ethnic minorities
Although many landmines were planted during the Iran-Iraq war, several million landmines were also placed in the western border provinces of Iran in the course of internal armed conflicts between the Islamic Republic of Iran and Kurdish non-state combatants in the 1980s. As a result, the five western border provinces of West Azerbaijan, Kurdistan, Kermanshah and Ilam, which have Kurdish majority populations, and Khuzestan, which has an Arab majority population, have been the most impacted by these weapons. These populations continue to experience disproportionate deaths and serious injuries from landmine explosions nearly 30 years later.
How to engage with the data
The data visualizations on this website are fully interactive. For the most part, you can hover over or click on individual charts to see additional data, details or explanations. You can also use the filter feature in the top right corner to view the charts through different lenses. Moreover, under each chart, there are tips and hints to help you navigate it. Look for a red megaphone icon.
To create a filter, click on the pertinent value within each category. To select multiple values, hold the Control key or the Command key on your keyboard and click on the values of interest. It is possible to combine values from different categories. However, some combinations may be invalid; in that case, the charts will show no values. Finally, some charts are unaffected by filters—for example, the trend chart will always show all years, and gender ratios will be displayed even when filtering by male or female.
To remove a filter, click on your selection again. To clear all filters and return to the original visualization, refresh the page using the refresh button in your browser or the F5 key on your keyboard.
Our Data Partner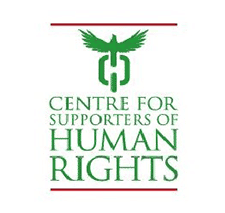 The Center for Supporters of Human Rights is a non-governmental organization established in the UK. They report on the condition of human rights in Iran and build capacity to increase human rights knowledge and awareness. They focus especially on minority rights and have produced reports that highlight the disproportionate impact of landmines on ethnic minorities. To learn more, read their report Rights Denied.